Diagonal Textile Art - LIA
Meet the artist

I'm Rianne Aarts, the artist and owner of Teddy and Wool. Creating things of beauty has always been my passion since I was young. After studying at the Art Academy, I worried about making a living as an artist and pursued law instead. However, I couldn't ignore my true calling and started my own art studio in 2016. Since then, I've been commissioned by thousands of clients and by brands such as Google, Marriott, Hilton Hotels and Starbucks.
Please join me on this journey and allow me to create a beautiful handmade fiber art piece just for you!
Customer Reviews
01/13/2023
Jason S.

United States
Amazing piece
I was looking for fiber art to surprise my wife for her birthday, and came across this piece. The color scheme, the detail, the workmanship, all amazing - let me tell you, it is priced appropriately. We hang this piece over our bed (matches our bedspread!), and my wife tells me it is absolutely the best gift I have ever given. In addition to the quality of the artwork, Rianne's communication on timing and delivery were spot on. Thank you Rianne!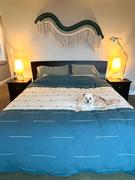 06/15/2022
Maryanne J.

Netherlands
Nothing short than INCREDIBLE!
Nothing short than INCREDIBLE! What an amazing work of art have you created for us Rianne, absolutely thrilled with this piece. It wasnt cheap but well worth the money and the wait. Thank you again!!