Macrame Fiber Art - Pick the perfect size and color - "EVA"
Meet the artist

I'm Rianne Aarts, the artist and owner of Teddy and Wool. Creating things of beauty has always been my passion since I was young. After studying at the Art Academy, I worried about making a living as an artist and pursued law instead. However, I couldn't ignore my true calling and started my own art studio in 2016. Since then, I've been commissioned by thousands of clients and by brands such as Google, Marriott, Hilton Hotels and Starbucks.
Please join me on this journey and allow me to create a beautiful handmade fiber art piece just for you!
Customer Reviews
04/25/2022
Katie

United States
12/26/2020
Kelsey B.

United States
Great Gift!
I received this piece as a gift and it is the perfect fit in on my wall. I loved the options to choose different colors! In my opinion the colors are slightly more muted than what you see online, but pretty true to what you preview. The fibers are thicker than I thought, which I like because I feel like it's going to be a lot more durable and long lasting. The ordering and shipping were a piece of cake from what my gift giver told me, and I loved that it was safely wrapped.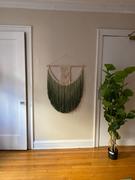 Our woven wall hanging from Teddy and Wool...
Our woven wall hanging from Teddy and Wool is everything we hoped it'd be and more! The medium size perfectly fits centered on the wall above the crib in our nursery, and adds a pretty color and soft texture to the space. It's SUCH high quality and a beautiful piece of art!