Handmade Fiber Art, limited edition - FEATHER
Description

Set the tone of your room with this handmade limited edition wall hanging, titled 'FEATHER'. This handmade-to-order textile artwork has a really unique and wonderful dyed gradient. It runs from an almost copper-like burgundy-rust color to ocher and ends in turquoise. When you go large+, this stunning fiber artwork is the perfect statement piece, adding a burst of color, texture and visual interest to your space. If you rather keep things a little more contained, a smaller size can be used to hang on your gallery wall, showcasing everything that makes your style unique.

Designed and created by Dutch Fiber Artist Rianne Aarts and available in six sizes, from small to 3XL:

S: 12" x 16.5" ( 32 cm x 42 cm )
M: 20" x 25" ( 50 cm x 65 cm )
L: 28" x 33.5" ( 71 cm x 85 cm )
XL: 34" x 47" ( 86 cm x 120 cm )
XXL: 46" x 53.5" (116.8 cm x 135.9 cm)
3XL: 58" x 60" (147.2 cm x 152.4 cm )
* Measurements are without a hanging-string
** Due to the weight, sizes 2XL and 3XL are hung using mounting brackets

● H A R D W A R E
The dowel for your piece will be made with high quality oak wood and is treated with a natural oil to protect the wood. The larger pieces (XXL and up) also have invisible mounting brackets at the rear side of the rod, to insure a stable and steady fixation to the wall and to hide any screws. This gives the art work a lovely 'floating' look, which looks great!

● S H I P P I N G
- Shipping is free (2 - 3 working days with UPS)
- Completely handmade-to-order
- Lead time: Roughly 2 weeks to create.



Customer Reviews
02/17/2022
Janet L.

United States
"Feather" Wall Hanging
We're very pleased with our "Feather" wall hanging. It's the perfect colors, size, and texture that we needed for our dining room wall. It took about 2 weeks to be created, and then took about 3 working days to air freight it from The Netherlands to the United States. It was well packaged and arrived without any damage or even wrinkles. It's very unique, and we love it! Jan L. (Oregon, USA)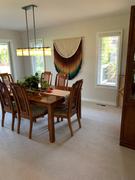 07/08/2022
Jeanne

United States
I recommend this product
Very high quality wall hanging! Am so deli...
Very high quality wall hanging! Am so delighted with it that I switching out a favorite painting for it. Gorgeous workmanship, a work of art. Merci et thank you!
Thank you for this awesome piece. It makes...
Thank you for this awesome piece. It makes my room look thousand times better!