Fiber Art - LOLA
Meet the artist

I'm Rianne Aarts, the artist and owner of Teddy and Wool. Creating things of beauty has always been my passion since I was young. After studying at the Art Academy, I worried about making a living as an artist and pursued law instead. However, I couldn't ignore my true calling and started my own art studio in 2016. Since then, I've been commissioned by thousands of clients and by brands such as Google, Marriott, Hilton Hotels and Starbucks.
Please join me on this journey and allow me to create a beautiful handmade fiber art piece just for you!
Customer Reviews
08/11/2022
Jamie

United States
Love my customized piece!
I absolutely loved the look of this piece and went to Rianne with an idea for customizing it. She was very receptive to my ideas and fun to work with. I was absolutely stunned when it finally arrive at my door! It's a truly beautiful work of art, and unique to anything else hanging in my home.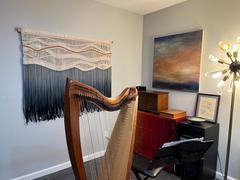 Beautiful piece! The photos that I sent do...
Beautiful piece! The photos that I sent do not properly show the gradients in the colors. Very happy with it!