Customer Reviews
10/22/2020
Karen E.

United States
Gorgeous Unique wall Hanging
I ordered "Isa" for my bedroom wall. After sending Rianne photos of my bedding for color coordination, she managed to create an awesome match and the result is absolutely beautiful. Communication was prompt and courteous. It arrived beautifully wrapped and had a lovely handwritten note along with instructions and hardware for hanging. In a world where so many things are machine made and mass produced without quality control, it is refreshing to find an artist like Rianne who loves what she does And uses her fine art skills to make it all by hand. My wall hanging is impeccable in all ways. I know that it will be a conversation piece in my home and give me much satisfaction for years to come. I'm saving space on my wall for another one. Thanks Rianne!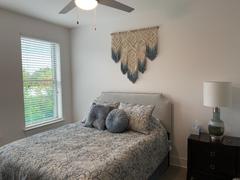 Love it! So pretty and unique. Really adde...
Love it! So pretty and unique. Really added great energy and texture to an otherwise boring wall I had
01/25/2021
Ghadeer A.

Kuwait
Price of Real Art
The item is amazing.. so beautiful, made with care and love in high quality materials..
11/26/2020
Jennifer F.

Italy
A beautiful addition to our home life!
Such a substantial and textural, yet elegant and refined addition to our living room. I was looking for a piece of fibre art for this location and was excited to find Rianne's work - and the piece that arrived faithfully matched the images and description online. Delivered very promptly so it could go quickly up onto our wall - mounting fixtures and instructions were supplied and very clear. Highly recommended!